E-mail is always a fun topic to write about, and it never fails to provoke a fun debate. There are even arguments regarding how it is spelled (e-mail vs. email). That being said, no one is going to be dismissive of e-mail's importance in our digital lives, so it is not surprising that choosing which e-mail client to use sparks some passionate discussion.
When you are using an e-mail service like Exchange, Proton Mail, Gmail or (God forbid), AOL, you're interacting with a mail server. This server can use different protocols (SMPT, POP3 and IMAP are the most common), but there is a remote "place" where your e-mail resides. Hopefully securely. When you log into GMAIL in your browser, you are gaining access to the mail server from the browser interface. For the most part your e-mails reside and stay on the mail server; for example, e-mails that you have sent can be accessed from the same mail server, and are categorized as sent.
However, many people feel more comfortable keeping their e-mails stored locally on their own device. An e-mail client lets you do this. It uses the authentication information you give it (server name, account and address and password) and then the client will set itself up. There will be various options available depending on which e-mail protocols are used.
There is something to be said for simple, and BlueMail is very simple. It is not open-source, but it is free to use (although that does not mean it always will be). I really like the interface, and it checks all the right boxes. There is a contact manager and calendar (if your mail service supports it).
Set-up with BlueMail was very easy. All I had to do was enter my e-mail address and password, and the application configured all the settings properly.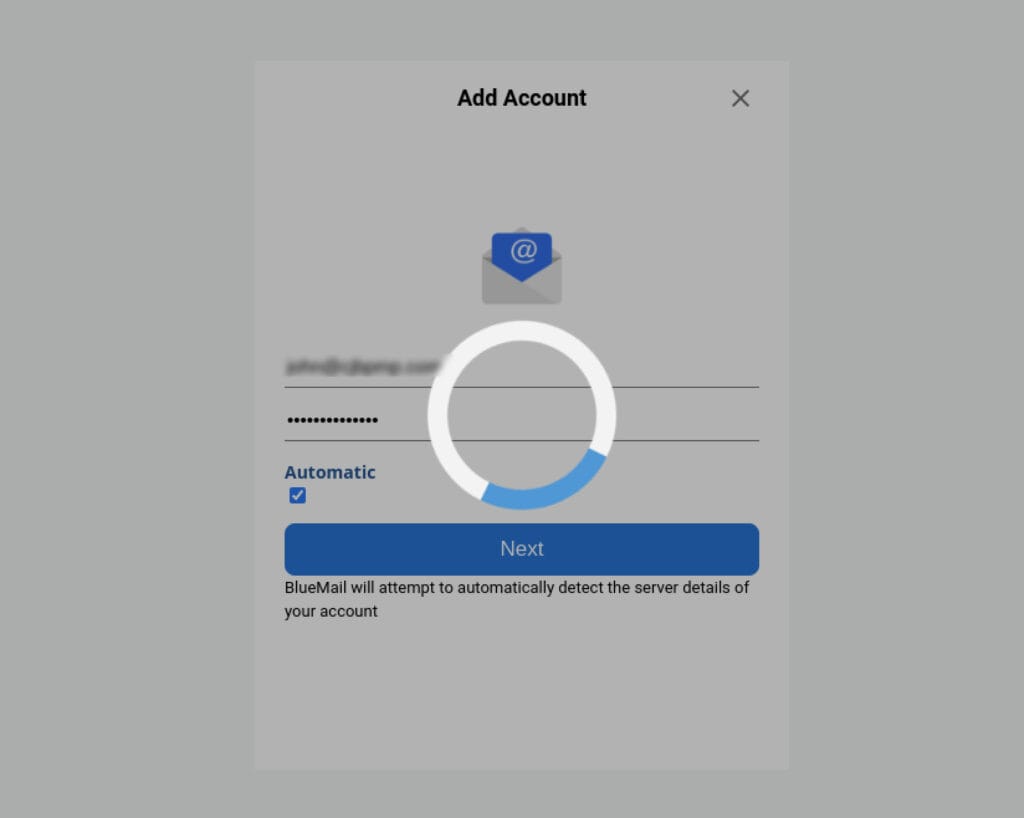 There is a lot to like with BlueMail. I know that many Linux users like software that challenges them, but I am not that person. Do not get me wrong, BlueMail is very powerful. It has a tool called "MagicSync" that lets you configure your accounts and settings across multiple client devices. Also, the settings are easily accessible and understandable, but also powerful. I was very pleased with BlueMail, and I think it is worth a try.
Thunderbird is one of the more popular choices for an e-mail client. It is built and maintained by Mozilla (the same group that manages Firefox) and provides a wide range of features. It is easy to install (download, Snap Store or apt). I always prefer to use the Snap installation.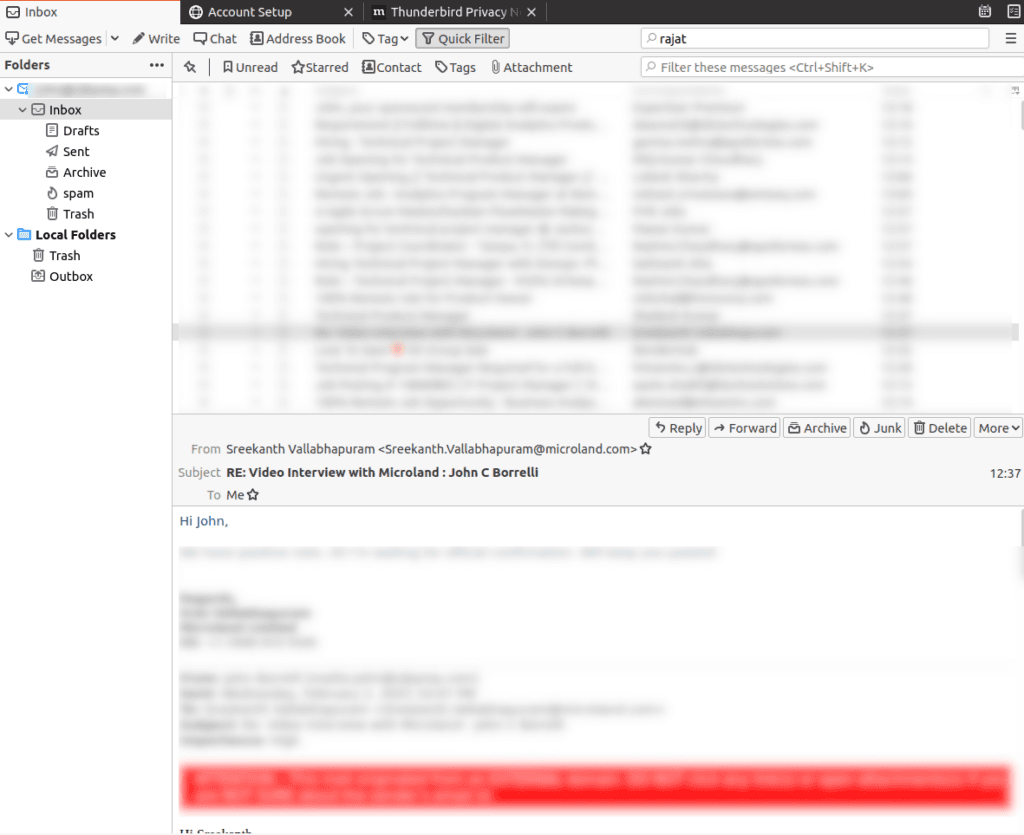 Although Thunderbird's interface is solid (and easy to learn) there is also not anything particularly outstanding, eye-catching or interesting. However, it is a very complete package that includes:
E-mail Client (of course, that is why we are discussing it!)
Address Book
Integrated Chat
News Reader (for those of you old enough to know what that is)
Task Manager
And all of the aforementioned are well integrated in the application. For example, you can easily convert an e-mail into an event or task.
The most irksome aspect of Thunderbird is that there is no way to directly access the menus/configurations from the main interface. That is, if you want to change or adjust any to the settings, you must first click Write, Chat or any of the "action" functions first, and then locate the menu item for Account Settings or Preferences.
Another minor annoyance is that you are only allowed a single signature per e-mail account (this is the case for most of the choices discussed in this article) . For most people this is not an issue, but it is nice to have. Fortunately there are many extensions to Thunderbird that allow you to expand Thunderbird's capabilities.
Mailspring provides a more modern, sleeker interface, but in order to use the full range of services, you need to pay a monthly fee. However, the basic services are free. So if you want unlimited snooze (the ability to resend an e-mail till later), you will have to pay.
So, for just e-mail, Mailspring is fine. However, it does not have a calendar, reminders or other management features. Calendars will be coming later in 2022 (per announcement inside Mailspring), but it is integrated with Google Calendars, which means that all of your events will be reviewed by Google.
I also found Mailspring a bit challenging to set up for proprietary mail. It installed Yandex, Google, Exchange and other popular e-mail services with relative ease. However, it took several attempts to configure a basic IMAP/SMTP server.
Also, for some reason, it can be slow, sort of. The search results are returned very quickly, as well as sending e-mail and getting e-mails. It is fine for those things. However, this is an unexplainable delay when you click a menu item, and when the menu responds.
It does have a powerful set of diagnostic tools and a very detailed log and access to a decent array of plugins. If you need to review message headers and log files, Claws Mail may be the best choice. Otherwise, it is just a bit cumbersome and slow to use.
This is another very strong contender as your Linux e-mail client. Evolution is easy to set up (using a five step wizard) and easier to manage. It has the "extras" that I like, including:
Contact Management
Calendar (very nice interface)
Tasks (with categories)
Memos (a very nice feature, with categories, statuses, URL links, attendees, summary…)
The archiving of e-mail was the easiest of all the versions I looked at, and the overall performance was outstanding. I really like the ease of creating filtering rules (called filters) that can highlight important mail. You can even have any incoming mail that meets your specified criteria launch an external program on your computer. The list of actions available "out of the box" is very good.
I have been a long time Thunderbird user (at least six years), but I am certainly evaluating switching over to Evolution. It meets all of my needs, and just has a cleaner interface. It also seems more configurable. I just need to do a bit more testing regarding configuration and security.