Unlike more newbie friendly Arch Linux options like Manjaro, EndeavourOS isn't really going for that market. Rising out of the ashes of the discontinued distro Antergos, EndeavourOS touts itself as a 'terminal-centric distro', which depending on how you rank your Linux power levels—1) being a terminal user, and 2) knowingly installing an Arch distro puts you, at the very least, past the noob stage. I'll just say that EndeavourOS fulfills that sweet intermediate to advanced spot for Linux users, and it does a hell of a job at it!
Installation
Compared to other Linux distros out there, EndeavourOS doesn't have a ton of features on the surface. Instead EndeavourOS focuses on simplicity and user customization. To that end, it stays true to its vanilla Arch roots as it has a minimal software footprint. In fact, the initial bulk of packages on a fresh install will likely be from the chosen desktop environment (DE) and its related dependencies. This is by design as EndeavourOS is aiming to be a blank slate for whatever you want/need it to be.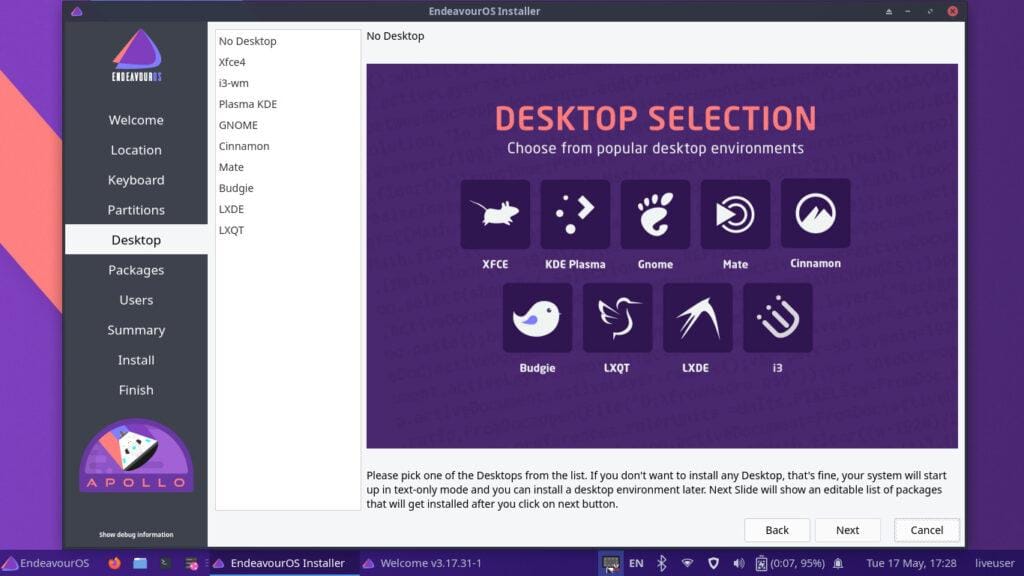 On the topic of DEs, the EndeavourOS installer ships with a bevy of desktop environments (I'll list them below) and window managers, you can even install it without a DE and bring your own if you so choose. There are also community editions that provide additional tiling window managers like Qtile, Worm, BSPWM, sway and OpenBox.
EndeavourOS takes all the hard stuff out of installing Arch, while still maintaining the spirit of minimalism. Regardless of which DE/WM you decide on EndeavourOS comes bundled with the AUR package helper yay, Firefox, and all the basic amenities one would have to manually setup like networking, sound, and graphics already taken care of. Post installation is up to the user to customize and tailor to their liking.
Minimum System Requirements
If you are installing Endeavour OS to older hardware like I am, it's helpful to have some idea of the system requirements, and unsurprisingly they are pretty low:
| | |
| --- | --- |
| Cinnamon, Gnome, Budgie, Plasma | Minimum 4GB RAM |
| Xfce, Mate, LXQt | Minimum of 2GB, Recommended 4GB for the smoothest experience. |
| LXDE, i3-wm | Ultra lightweight, ideal for older/low-spec hardware |
Note that the installer comes with a full offline Xfce desktop (which the live environment runs in) but the other DE/WMs require a Internet connection to install. The latest EndeavourOS installer can be downloaded from their website: https://endeavouros.com/latest-release/
A Budgie review
Coming from the Ubuntu-based Regolith LInux, which came with a pre-configured i3-wm DE, I was eager to get back into a more relaxed environment that wasn't so key-focused. Ever keen on trying something new I picked Budgie, so the rest of this review will be through the lens of Budgie.
Budgie is a very sleek and modern feeling desktop. Ultra minimal with flat colors and round edges galore, you can very clearly see the OSX influence in its design. The only thing its missing is the colored tool-tips for the window controls. Its pretty simple to customize and after troubleshooting one big flaw that it had, it really got me digging into the menus to see what their status bar and 'Raven' notification bar could do. Other than that, Budgie is very fairly lightweight on system resources and even on my aging 2014 laptop it felt incredibly snappy and responsive.
The Fix
Now, I'm not one to back away from a good ole bug hunt; after doing some digging I found a very helpful thread on the EndeavourOS forums. Which I highly recommend visiting if you run into any issues with your install as unlike vanilla Arch users they won't eat you alive if you ask a question the wrong way. Let this serve as a testament to EndeavourOS's friendly community, which they proudly advertise as a feature of their OS all over their website, kudos! Now on to the actual fix:
sudo pacman -R gnome-control-center
yay -S budgie-control-center-git
This will install the budgie-control-center package that is a fork of the gnome-control-center that comes installed by default. This will compile, build, and install budgie-control-center from the AUR and now all the context menus will now work. You might miss out on gnome-control-center's dark mode that it applies to all the windows, which budgie-control-center currently lacks, but at least you won't have that weird disconnect in your DE.
Raven
Budgie also comes with a notification/applet area that by default you can open and close with the super key (typically the windows key) + A. Its some handy quick settings panels but it is limited in terms of customization, you can't add anything into it. By default you'll have access to a calendar, sound output volume, mic input volume, and a media player. Every applet can be collapsed or switched off entirely, and you also receive notifications in this panel, accessible by default with the hotkey super + n.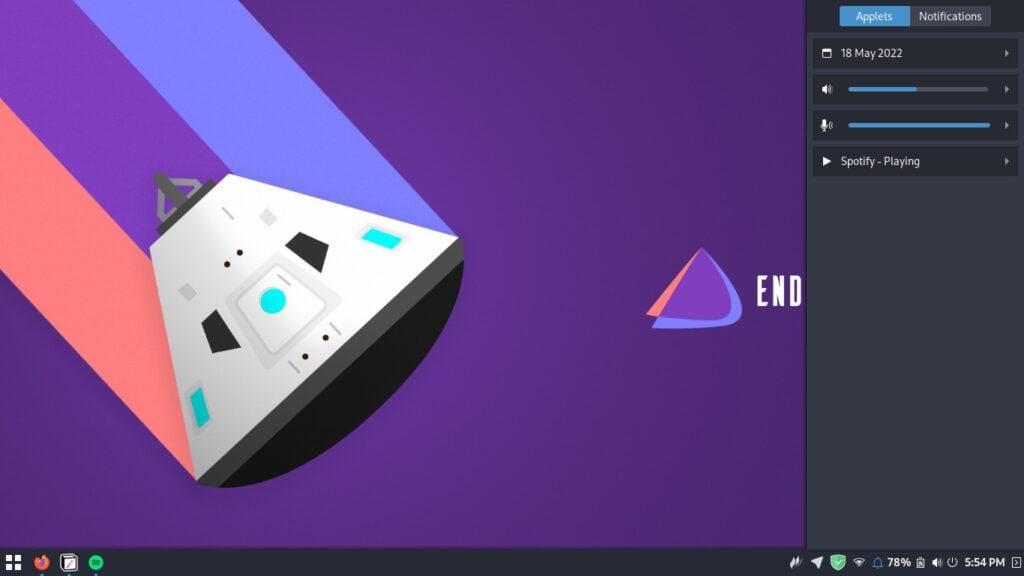 Keyboard
Its dead simple to change the default keyboard shortcuts or add your own, in this screenshot I've configured flame shot with some custom parameters.
Budgie also supports custom shortcuts via the Budgie Control Center (or GNOME control center if you forgo the fix). You can disable or take over any of the predefined keys quite easily and even execute commands via keystroke.
The Status bar
The feature of budgie that I loved the most was the customization of the status bar, as unlike Xfce which has that wonky panel thing going on, Budgie is incredibly straight forward to customize. I was adding new bars, changing the position of them, making them transparent so on and so fourth. Budgie even lets you change the width of the bar and also the widgets that were contained inside of them. There is also a stellar dock mode available that minimizes the status bar foot print which is needed, oh-so-greatly by laptop users such as myself.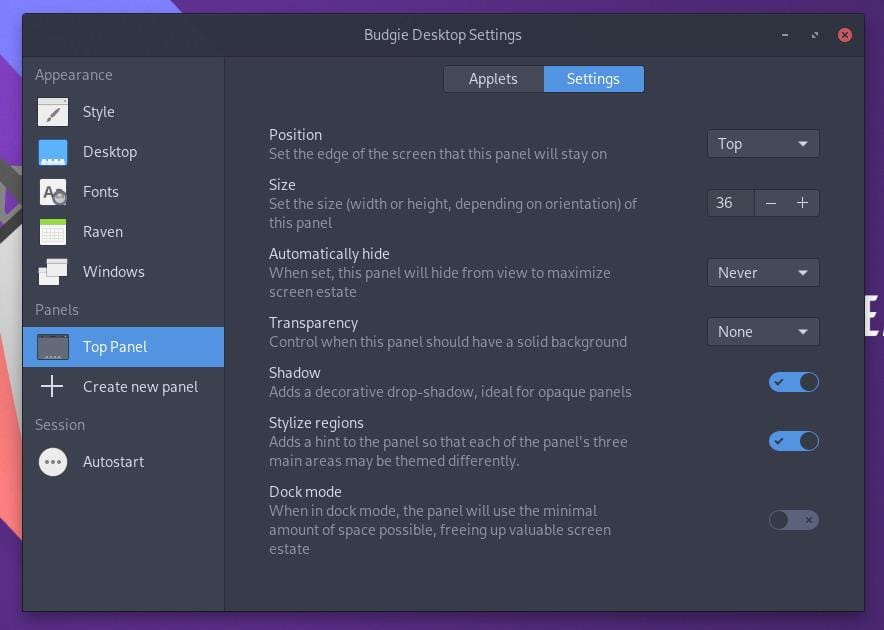 I have to say that using Budgie was very fun, probably the most fun I've had customizing a Linux desktop by far. I think I'm just lazy and I can't be bothered to hack away at an i3 config with any kind of zeal or gusto, but honestly Linux is whatever you make it and I am completely content with using this as my DE on my mobile workstation for the foreseeable future. would definitely recommend this DE to anyone sick of the standard Xfce, Gnome, or Plasma environments that get re-skinned and re-plated with every other distro.
Conclusion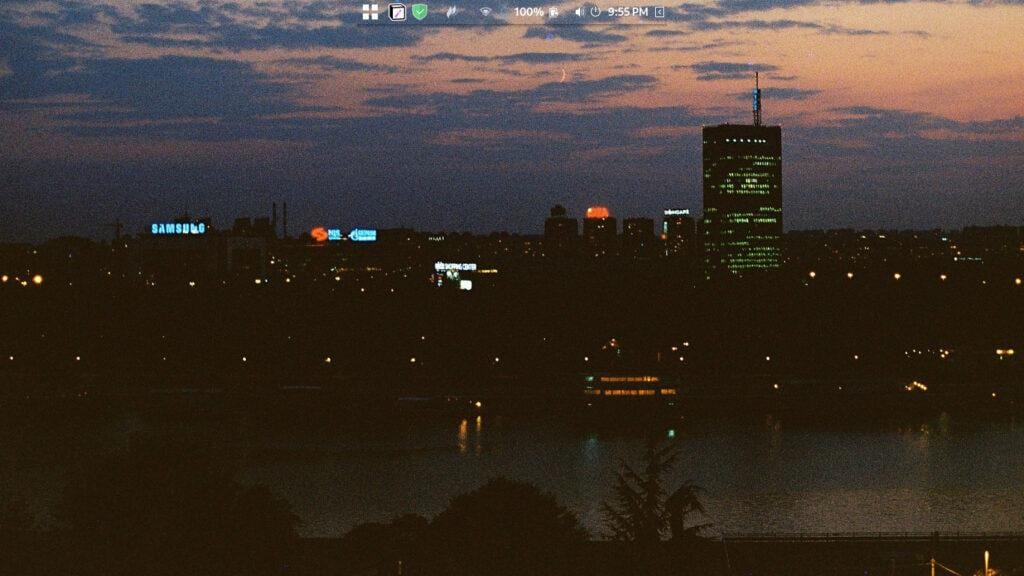 EndeavourOS is a fast pass into the best part of Linux: the customization. Combine this with the ultra light footprint of Arch and truly this is a match made in minimalist heaven. Overall, regardless of what DE you choose to pai EndeavorOS with, your version will differ from mine and thats the beauty of this distro: you get out of it what you put into it. This distro is for the intermediate user who isn't afraid to customize or even troubleshoot in my case or anyone else who decides to go with Budgie at the moment. Bugs aside, I am definitely a fan of this distro as it hits all the right marks for me: minimal, arch based, light weight, and easy to customize (granted you give yourself time to learn your DE). Give it a try if you are in the market for an Arch distro without all the hassle or just want to make some r/UNIXPorn material.